Thomas Stank, MD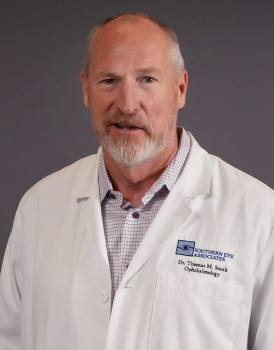 Thomas M. Stank, MD is among the top experts in the nation and has more than 20 years of experience in performing the full spectrum of eye surgeries, including LASIK, Cataract Surgery, Oculoplastic Surgery, and Glaucoma Surgery. Dr. Stank is the only double board certified Glaucoma specialist in Northeast Arkansas. As one of the first surgeons in Northeast Arkansas to perform LASIK surgery, Dr. Stank has now personally given thousands of local people the ability to see free from glasses and contact lenses.
Dr. Stank graduated magna cum laude from the University of Pennsylvania with a Bachelor's Degree in Bioengineering and was also elected to the Tau Beta Phi National Engineering Honor Society. At Penn Sate University, he earned his medical degree and received the Sandoz Award for recognition of superior academic achievement and contribution to health care. He completed his residency in ophthalmology at the Scheie Eye Institute of the University of Pennsylvania and completed fellowship in glaucoma.
Dr. Stank is Board Certified by the American Board of Ophthalmology and a member of the American Academy of Ophthalmology, the American Medical Association and the Arkansas State Medical Society. He is one of only four ophthalmologists in Arkansas certified by the American Board of Eye Surgery in both Refractive Surgery and Cataract Surgery.