Matthew Margolis, DO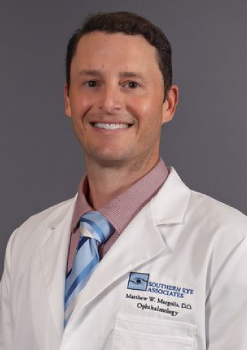 Matthew W. Margolis, DO is an expert in vision correction procedures and has experience in performing the full spectrum of eye surgeries, including LASIK, Cataract Surgery, and Oculoplastic Surgery. His expertise provides our patients with the newest and best surgical options to provide clearer vision than has ever been available.
ASK DR. MARGOLIS A QUESTION
Dr. Margolis graduated magna cum laude with a Bachelor's Degree in Biology from Southern Oregon University, where he was nominated into the Phi Kappa Phi Honors Society and received the Northwest Osteopathic Medical Foundation Scholarship. Later graduating with honors from the University of North Texas Health Science Center – Texas College of Osteopathic Medicine in Dallas/Fort Worth, he ranked #1 in his class all semesters and received the Dean's Scholarship. Dr. Margolis honed his surgical skills as Chief Resident in Ophthalmology at the University of Arkansas for Medical Sciences (UAMS) in Little Rock.
During his training, Dr. Margolis received numerous awards for his outstanding achievements. These awards include the President's List, National Dean's List, Student DO of the Year, Academic Excellences in Pharmacology Award, Who's Who among American Colleges and Universities, Golden Brain Award, Mary Schunder Award, Elizabeth Forsythe Award, and was a Southern Oregon University Merit Scholar and Southern Oregon University Calculus Scholar.
Serving as Student Chapter President, Dr. Margolis built a strong membership for the Texas Chapter of the American Medical Association. He was also a member of the Texas Osteopathic Medical Association Committee on Strategic Planning, Arkansas Ophthalmology Society Mentoring Program, Sexual Harassment Policy Task Force of UAMS and the Pharmacy and Therapeutic Committee of UAMS. In addition, he has given several Grand Rounds presentations in all subspecialty areas of Ophthalmology. Dr. Margolis also participated during the National Osteopathic Medicine Week Community Outreach Program providing healthcare to the underserved. In addition, he developed the lecture series Medical Malpractice 101 and Texas Medicine & Politics.
Dr. Margolis is Board Certified by the American Board of Ophthalmology. He is a fellow of the American Academy of Ophthalmology, Arkansas Ophthalmology Society, and the Arkansas Osteopathic Medical Association. He is also licensed by the Arkansas State Medical Board.