Josh Little, MD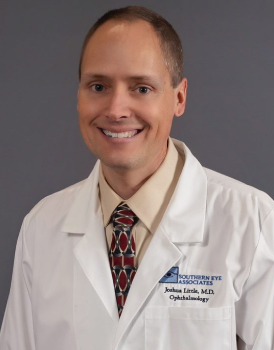 Dr. Little graduated from the University of California, Santa Barbara, with a bachelor's degree in Mechanical Engineering. He was recipient the National Merit Scholarship and the University of California Regents Scholarship, the university's most prestigious merit scholarship.
After his undergraduate education, Dr. Little had a fruitful professional career as an engineer for 13 years for Boeing, NASA, and the U.S. Missile Defense Agency. During his engineering career, he received numerous commendations and awards but feeling led by God to do something more meaningful, he took the plunge and went to medical school.
Dr. Little earned his medical degree at the University of Tennessee Health Science Center in Memphis. While there, he received multiple merit-based scholarships. While there, he was Vice President of the Student Interest Group in Ophthalmology and assisted with multiple free community eye screenings. Dr. Little completed his internship in general medicine at the University of Tennessee Health Science Center in Memphis.
Fascinated by the complexity of the eye and drawn to the great good that can be done protecting and restoring people's sight, Dr. Little pursued further training in ophthalmology. He stayed in Memphis to complete his ophthalmology residency at the Hamilton Eye Institute at the University of Tennessee Health Science Center. During his residency training, Dr. Little actively participated in the semi-annual Cataract-a-Thon, a joint program with the Lions Club, Hamilton Eye Institute, and other eye care
organizations to provide numerous free cataract surgeries to local people in need. Dr. Little's training also included a mission trip to the Dominican Republic with the Hawaiian Eye Foundation where he learned special surgery techniques for the very mature cataracts often seen in the developing world.
Dr. Little is Board Certified by the American Board of Ophthalmology. Dr. Little is a member of the American Academy of Ophthalmology. He is also licensed by the Arkansas State Medical Board.